blog
Aaaaaand, there's my face on a poster:
I've always said that Benedick was the first role I ever got to play where I had the best lines and got to kiss the girl. I know that I don't have leading man looks, but my take on Benedick has always been that he doesn't need them. Claudio has to be young and beautiful the first time you see him, but Benedick's charms, I think, work better when they emerge as his character evolves. The industry term would that he's a "character lead", which indicates that there's substance and a journey, but is also a nice way of labeling a main character that less-attractive people can play.
My face has appeared in marketing materials before, albeit selling a slightly-different aspect: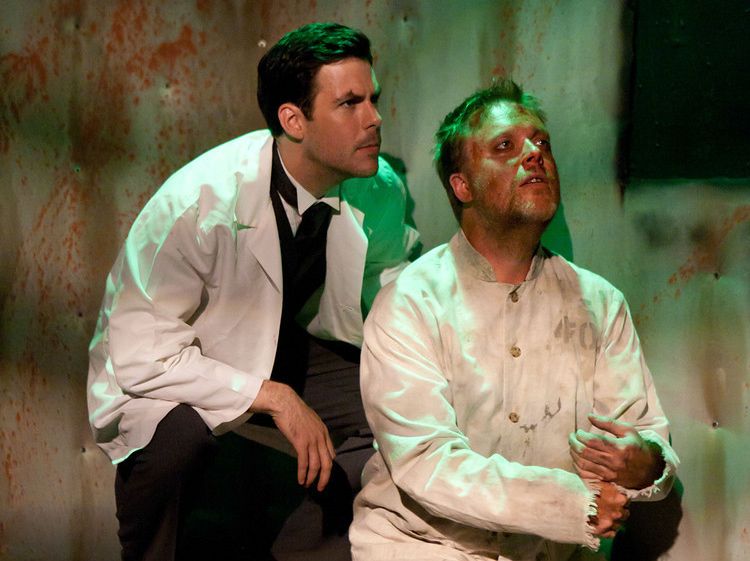 That I take as a compliment, because it's about selling something a little weird and a little dark, which I can do and I enjoy. But the above poster blatantly says "Don't you want to pay money to see these two people be charming and romantic?" There I'm still not 100% sure I agree on the wisdom. But I think that's probably just my own self-confidence issues.
Yesterday I did a brief interview with the Long Beach Press Telegram as part of an overall promotional article for the show. That's a new experience for me, and it made real for me, kind of for the first time, the fact that when you start working at institutions like the Long Beach Playhouse, there is a certain responsibility involved in playing a leading role that goes beyond what you do on the stage.
Sure, one interview and a poster is nothing compared with a months-long worldwide press junket for a Hollywood star. But it is something new to me and my acting experience – and, I must confess, at least a little cool.