It feels like I do more self-promotion than ever, which I'm sort of ambivalent about. I have come around to its necessity in the era of the "personal brand"; and it has actually had positive benefits to my career; although my long-term hope is still that I can build a viable career in this trade while keeping the spotlight more focused on the work than on myself. I guess that's a weird distinction to make, and probably doesn't sound natural coming from an actor, but it is honestly how I feel. I only want to be out there to the extent it helps the work; and if it's not about the work, I'd really rather be left alone.
Maybe that's why there has been less blogging lately, I already personally feel like I'm talking about myself too much. Add to this that I'm in the closing phases of the new novel, along with a number of other projects, and there's also just been a lot less time.
Nonetheless, there are new things to share: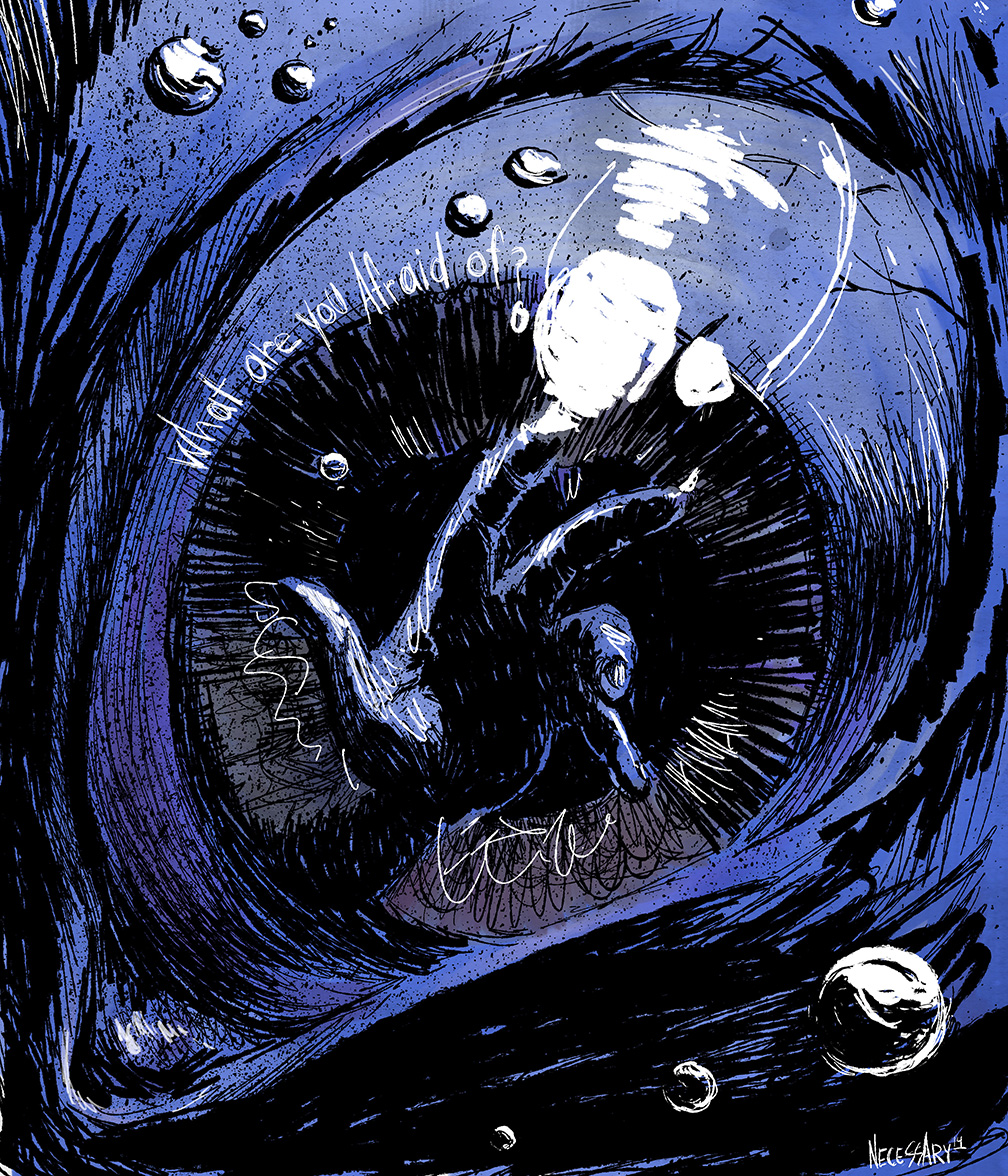 That's the typically fantastic promotional artwork from
Kevin Necessary
for my newest Earbud Theater podplay,
The Sounds Below
. You can stream/download it through the link or
head over to iTunes
. It launched Oct. 28th, just in time for Halloween, and the response has been, I think, the strongest of any of my Earbud pieces. I feel like I'm still in the extended sigh of relief from finishing it; the soundscape for it was by far the most complicated and time-consuming of them all, and as has been our practice I was doing post-production all by myself. That's going to change going forward – one of the thrilling things going on right now is that our work is starting to attract people who want to help out, including some people who actually know what they're doing when it comes to audio engineering. This means we'll be able to get out work that is of much higher-quality, but also faster. My next piece is going to be a little change of pace called
Bubbles
, which should drop in mid-December.
Three Earbud pieces from this year – Habitat, Bea Little, and ESCAPE! (The End of Humanity Song), are nominated for multiple Audio Verse Awards. The Awards are now in their second year, and with some of the most popular audio drama podcasts on Earth like The Truth and Welcome to Night Vale in contention, it's likely to draw far more attention. Earbud won a couple last year, and we're hoping to as well this year. Anyone can vote here (hint, hint); this round will reduce the nominees to finalists in every category, and in the second half of November another vote will determine the winners.
I did a pair of radio interviews this week, to talk about both Seeing by Moonlight and the Virgin Galactic disaster; first for the show Late Night Parents, and then again for Allen Media Radio, which is an actually an outlet of the P.R. firm my co-author hired. So you're literally listening to my publicist interview me, which makes it very friendly, with expertly-frequent plugs.
Because of the research I did into the history of rocketry and the space program for Moonlight, I do still follow stories like Virgin Galactic with interest, and I guess in the one-hand-washes-the-other mechanics of media booking, it's easier to talk to me about a book after we've spent some time on the current headlines. That may be feeding my recent ambivalence, because it's difficult to consider that a terrible accident which cost someone their life gets processed into an opportunity to advertise my little thriller book. Still, my co-author has asked if I would be the public face of our partnership, and it's something I'm willing to do if it helps him recoup his investment in this book.
Lastly, one of the films I shot this year, Reclaiming Friendship Park, launched its first rough trailer. You can view it on the film's Facebook page. The movie is still very early in post-production, so a lot of mixing and color correcting still needs to be done (and the music is, obviously, not ours), but I think it looks pretty polished for this stage, especially considering how low the budget was. I'm only in the trailer for the blink of an eye, but since my character is largely comic relief, and the trailer is focused on setting up the story, it makes sense.
I heard from the director and producer of the other film I shot, Cloudy With a Chance of Sunshine. Sounds like they're up to their necks in post as well, but that there will probably be a cut to view around January.
Hopefully I will be able to write a little more later about my short story collection Stages of Sleep, which is nearly in its final form – just waiting on cover art. The way everything is lining up, I'm likely to have two books out in 2015 – and at least two feature films in which I'm acting. Talk about work coming to fruition. That's something I'm not ambivalent about at all.